April 19, 2019
10 Coachella Looks That Fancy Troubles Can't Get Over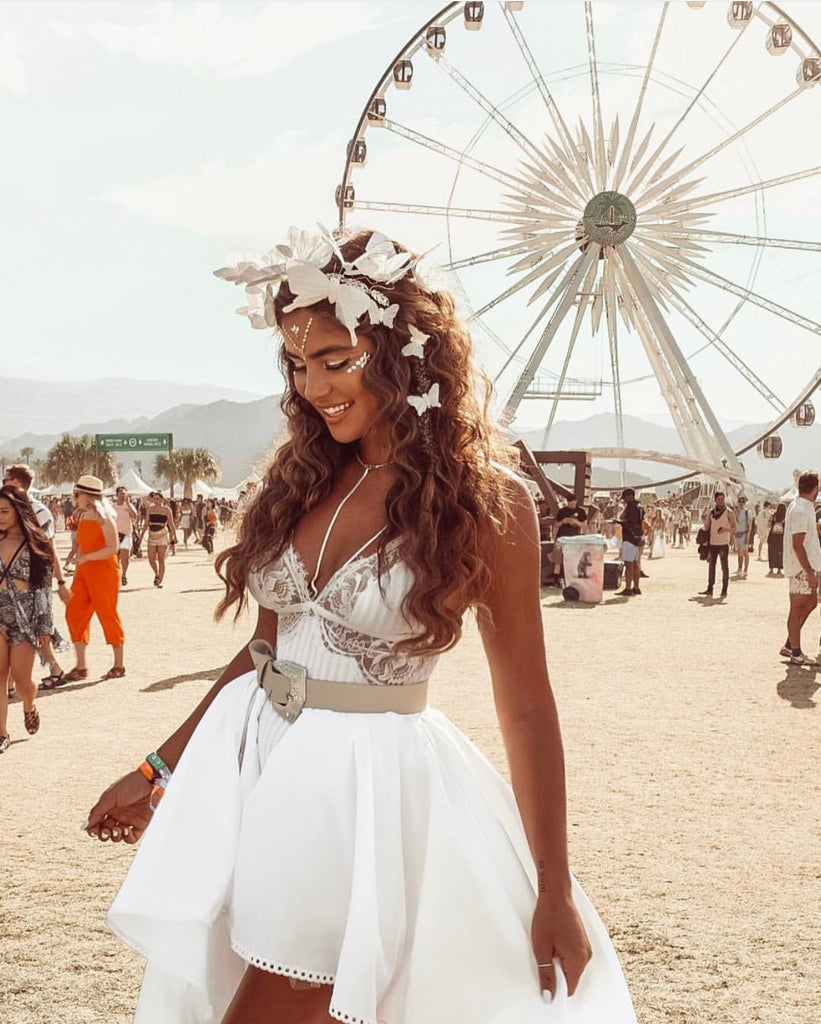 If you're looking to make a statement with an outfit, take a page out of this girl's book. @jamienkidd danced with butterflies, bringing a whimsical spin to the staple white festival dress with a long, flowing back to resemble wings. Detailed face jewelry and an exquisite headpiece bring the nature-inspired theme to life. Fluttering around the desert, she looks like she's been sent by Mother Nature to ride the sound waves and grace the crowd with a glimpse of enchantment. 
What a beautiful site to see gliding around during a vibrant performance!
Festivals are a time of self-expression and Coachella is the ideal place to put your styling skills to the test! @moustachic is fashionable and confident. What she's wearing also says elegant but knows how to bring the fun.
Annalisa's peeking from her Fancy Troubles sunnies in rose gold that accents her ready-to-party outfit perfectly. She is ready to dance, explore and get into more fancy troubles!
Festivals give us all a chance to let our inner spirits bounce around beautiful camps and gorgeous sounds. Through dance and through our dress we share with the world the vibe we're on.
We loved @leoniehanne's outfit, truly a beautiful festival fairy with just the right gemstones! The beige color was perfect for her golden hair and the California sun, and with the shimmers around her moving to the music we found her outfit ethereal!
We can't get over @aliceperrella's style. With a hat that works on a distant beach, foreign city, or miles of nature she immediately caught our attention. Her face is masked in intrigue and beauty behind her sunglasses, a telltale sign she's got some fancy troubles in mind.
Comfortable in her own skin, clad in a flowing white blouse, her look is confident. No need to make a huge statement, she does that with the details. Intricate yet simple, this outfit was pulled off perfectly.
Mirroring the desert and letting the festival's colors dance around her, @alicedetogni brought the chill to Coachella. She's got the desert festival goddess for sure.
With her Fancy Troubles sunglasses, her outfit takes on an attitude that anything is within her grasp, and she is so not afraid to go for it. Her style is bold, her lifestyle adventurous, and her outfit captures every aspect of that. We love her style, and nothing changed with her Coachella presentation. Take note people!
The cowboy look has been making a comeback but this babe put a great modern twist on it. Mixing in a fishnet skirt to dangle over her leather boots @jourdansloane's outfit was unexpected and unique.
Keeping the South Western vibe real with her hat that matches the desert sky, this outfit says, "chic and confident, ready for whatever is on the horizon."
We love the mixing of 50s muscle car toughness with a chic shout-out to the disco era. For a cool and confident Coachella look @fashionablysurfed delivered a look that others surely envied. Plus, let's be real, it gets hot at Coachella, and this
outfit definitely kept her cool figuratively and literally.
Her pants say she goes with the flow, and she looks so graceful she could float away with the breeze. Bellbottoms are making a comeback, but they make a fantastic statement when done with layered airy cloth.
Another look that's been popping up recently is the 90s throwback, and this outfit nailed it! Evoking something Baby Spice would wear but with the empowered attitude of 2019 @emmaleger brought a dangerously fun vibe to Coachella.
Contrasting hot pink against the brown floor of Coachella's desert venue made her outfit stand out in a crowd for sure. The detailed layering of her outfit and her use of mesh made this look not only stylish, but great for a festival in the sun.
Nothing says wild like cheetah-print. Another trend that has been making a recent comeback, a pattern that can be dressed up or more casual is ideal for desert festivities. This outfit makes a statement that @tezza knows when it's the right time to turn up the danger.
Her hat adds to the elements, giving her a rugged look in the So Cal sunshine. Keeping her shaded, this outfit is perfect for making one hell of an impression.
@wolfecindy's style consistently has a bad b wave, but for this weekend she brought the clash of colors. Waves ripple and blocks of Tropical Edition Skittles beam across her hair, which looked gorgeous in the Cali sunlight.
Sultry and suntanned, this belle is ready to let the vibes of the music envelope her. We thought her look captured the feel good sensation people go to festivals for. But not everyone can put that feeling into an outfit!